What is Conversational Marketing?
Talk to Customers Where They Are
Conversation Marketing refers to leveraging messaging apps such as WhatsApp, Instagram DM, and Messenger to engage leads in real-time conversations and provide personalized support, creating the quickest means of navigating leads through the sales funnel.
How you can Capture Subscribers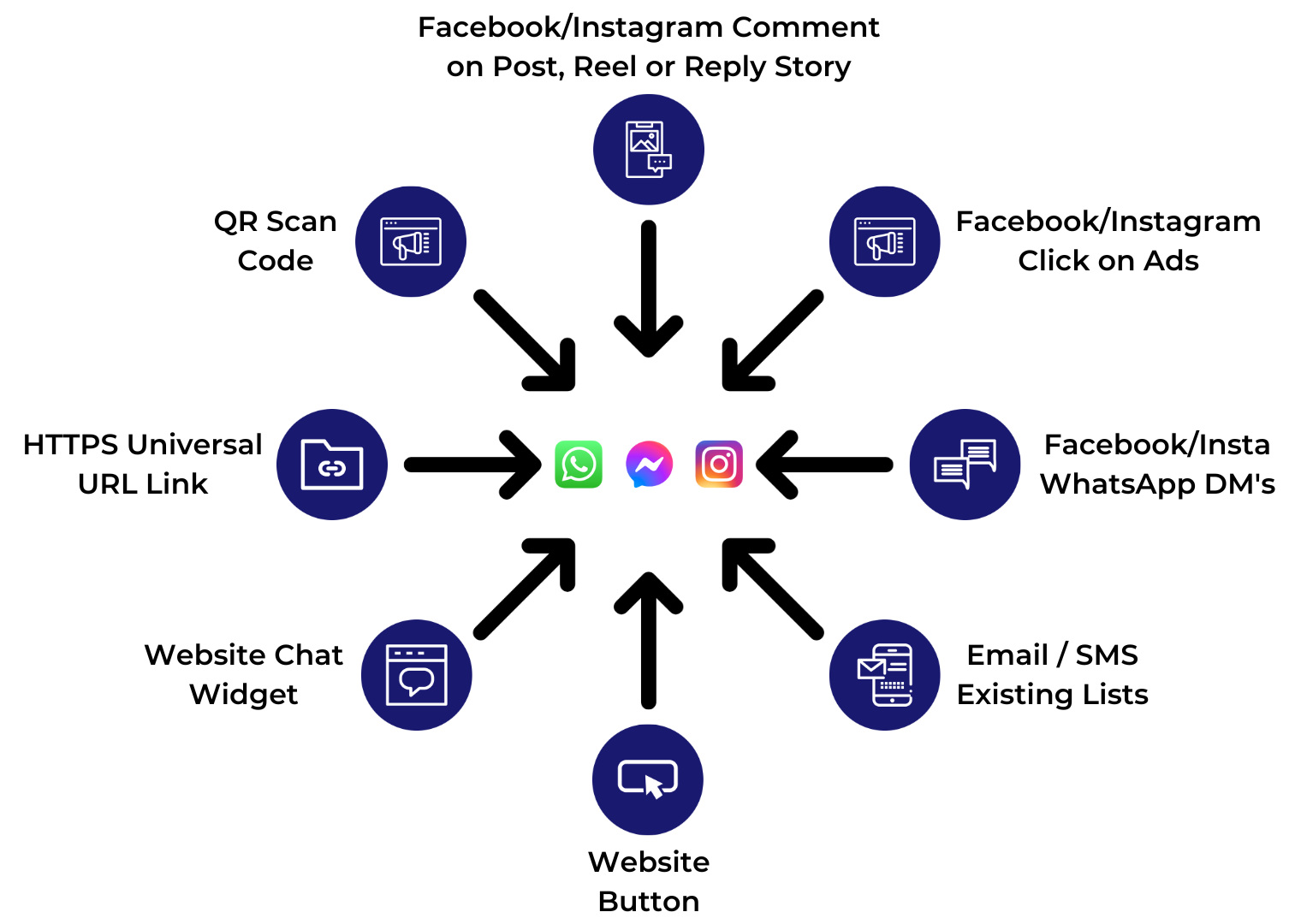 It is similar to having a dedicated employee available 24/7 who can cater to each customer's needs individually. With the capability of conversing with multiple customers simultaneously, businesses can engage an unlimited number of leads.
Amplify Marketing, Sales & Operations
This customer-centric approach allows customers to communicate on their terms, making it more effective than traditional methods like SEO, landing pages, and emails with low click rates. Conversational Marketing leveraged with AI not only results in improved customer service but in also generating more qualified leads and increasing sales for businesses.
Did you know the average person checks their phone 160 times a day and over 1 billion people message businesses each week.
Take your Business to the Next Level
Our goal is to blend personalized interactions and automation to effectively expand the reach of your marketing, sales, and operations.
The Twelve Digital team has been instrumental in incorporating the Facebook and Web chatbot which has aided to generate qualified leads in the sales pipeline. Further, their professional approach to create relevant social media content in an ever changing business environment, attention to detail and bias for action for trouble shooting has been commendable. I highly recommend Twelve Digital for any company/brand to partner with them for automation on business processes with regards to chatbots and to enhance and sustain the digital journey of a brand/company.
The Twelve Digital team has been instrumental in strategizing, architecting and implementing most of our e-commerce initiatives and all of them have been a success so far. Maintaining international standards in all aspects of their work together with their professionalism in interacting with external parties have ensured that complex collaborations have been executed with ease. Their expertise is a great asset to our business.
We have had a great working relationship with the Twelve Digital team on various complex projects. Their knowledge and understanding of customer engagement is extensive and their strategies have proved successful, with many of our clients benefiting from their service.
What We Do
Thrive in the new digital world with our custom-tailored solutions that exceed expectations and drive growth.
How it Works
We know there is no one size fits all in any business and here to help take your business to the next level.
Apply for a FREE Strategy Session
SCHEDULE YOUR
Free 30-Minute Strategy Call
By the end of this call, you will have a clear understanding of the next steps you can take for your business to start generating more qualified leads and win more deals with chat marketing, automation and custom-tailored services.
This Call is Perfect For Businesses:
Looking for a reliable agency that can make their company a priority and deliver results.

Open to new technologies and automation and not afraid of investing in their business.

Businesses looking to understand their increased revenue potential with chat marketing and automation.